Babybird Interview
Babybird's new single, The F-Word was finally released this week. That's an achievement in itself. Surprising then to find Mr Stephen 'Bird-like' Jones in maudling, ponderous spirits. " I've just come back from my bank manager ", confesses Stephen, " said he thought You're Gorgeous was a cracker...but that prinicipally I was a bad investment......which is a shame because I'm quite fond of the Rowan Atkinson advert that Barclays have!" Jones plays idly with the crust of his slipper and leans forward - sparking up another red-one..."I'd simply wanted to open up a current account....but you need a stable monthly income. The popstar stuff didn't really wash. Know of any other accounts worth opening?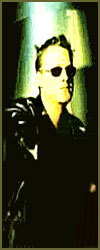 And it's in this frame of mind that we find him. Half-man - half bedroom slipper. A spurious man at the best of times - today he looks almost transparent.
"At about quarter past eleven on Thursdays I'm an invsible man.."
Only on Thursdays?

" I think it's a throw back to all that time I was unemployed. Waiting to sign on...waiting for the giro...waiting to go out and spend the giro.." He shakes his head. "until then I was no-one..kind of temporary..."
And what would you say's changed all that, Stephen?
" I don't now get a giro at all! I'm too busy writing the next You're Gorgeous! "
Would you say the popularity of that single has diminsished your more ecletic songwriting efforts?
"How do you mean?"
Well prior to that you were a bloody genius. Now you're pretty well........spent?
Stephen shuffles in his seat. Smiling. Grimacing. Laughing. Rubbing himself on the cheek...fiddling with a tube of Smarties...undoing an orange with one hand...and cracking open a bottle of bud with the other.. .....that kind of thing...
" I think nothing really prepares you for success...certainly a lot of the early recordings work because of the immensity or the sheer brutish yearning for that something significant...and I suppose that when you finally have that - or have something that kind - I suppose some of that same desperate energy gets spilled with it's uncompromising entrance........fancy a rolo or a spritzer?
The terrace decline. What about the new record. A return to form?
" Probably not. I keep saying in interviews that this time I'm going back to basics... just 4-tracking it - dumbing it down - writing another Shop Girl or Hong Kong Blues."
Classics Stephen.
" yeah. I suppose they were. Why didn't I just re-release them..next time...eh..perhaps?"
We hope so Stephen. We really, really hope so....