Hush The Many (Heed The Few) are the sound of the shadows, and of the heartbeats that lurk within, shifting shapes caught intermittently by shafts of light. They are anxious and they are peaceful, and shades in between, but they're mostly about the extremes - tumultuous folk music of irrepressible spirit, a bundle of energy strung between Nick Drake's whisper and Nick Cave's scream. File alongside previous touring peers Fields' retro-progressiveness and It Hugs Back's fuzzy-wuzzy folk. Catching them on their recent 3 week reduced-residency at the Wilmington Arms pub in London we find a band fertile within the throes of opportunity, whose soul you can read as genuine from the gleam on their wanting eyes. They are lead by beaming, incandescent, hippie Noel Fielding-a-like, Nima, who plays like he's building friendships with each instance of eye contact, no matter how fleeting. It's a beautiful cliche, corroborated by his taking to the audience with guitar for a more personal serenade in a bid to get yet more intimate in a venue with a capacity almost in negative numbers. We grabbed a few e-minutes with Nima mid-way through the residency to find out where his head's at...
Where are you now? What can you see?
Hackney. Big speakers, two keyboards, a guitar, and a bass.
What was the last thing you ate?
An egg and spinach sandwich with out-of-date barbecue sauce.
What was the next album you intend to buy? Why?
The Madcap Laughs by Syd Barrett. I saw the vinyl in a market stall yesterday and realized it's ridiculous I don't have that album when the only time I ever heard it the whole way through I felt that kind of strange sense of elation I get when something makes perfect sense.
What was the last movie you saw?
Blades of Glory….I think I can pretty much watch anything with Will Ferrell in it.
What are you most looking forward to?
Hmm…tricky question, there's lots of good things coming, but it's the live dates I really look forward to always…So right now that's the last date of this residency we're doing and the tour in March. In between there's lots of recording and rehearsals which is all good too, though I think the live shows is where the release happens :)
What do you hate right now?
Constantly thinking I've done the final mix of this B-side and then realizing something else about it so I have to do it over and over again and end up making 17 different mixdowns called things like 'final mix'…'final final mix'…'seriously final mix'…. 'most final mix EVER' kinda thing….it's long!
What was the last thing you liked that you saw on TV?
Freezing.
Where or how do you feel most comfortable?
In a cardigan.
What are you scared of?
Idiots as political leaders.
What are your plans for tonight?
I'm going to SARM West where we're mastering our next single.
The single 'Revolve' is out now.
Relevant sites:
www.hushthemany.com
www.myspace.com/hushthemany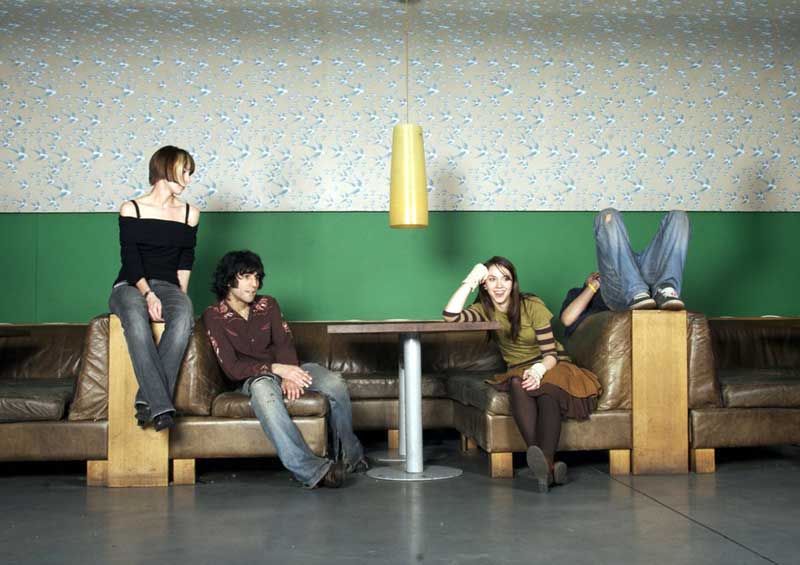 James Berry for Crud Magazine 2008©