Artist: Merz
Label: Gronland
Label Mates: Half Cousin, Psapp, The Earlies, Dextro, Sondre Lerche, Neu!
Here's the deal. Here's the BiG DeaL. That shitty four-piece you've been in with your mates since Year 8 eventually managed to get some daft industry type to hand over a blank cheque and to tell you were going to be famous. Very famous. They only thing they didn't tell you was that music was more than just writing songs and shaking your balls on stage. It was about being there on time. Releasing something on time. It was about being famous on time.
And sometimes it's just in the genes. Sometimes it's just a family affair. Or at least it was for Conrad Lamert aka MERZ, a man of no fixed abode, no fixed duties, requirements or obligations and as likely to shrug off the dead wood in his life as philosophically as a Christmas Tree sheds it's pine needles after Christmas. And never has his informal and casual approach to life been more apparent than on his 'deciduous' new album, 'Moi et Mon Camian' – named after the itinerant West Yorkshireman's removal company in his adopted West Country home (or at least it was his home until the itinerant West Yorkshireman was evicted, but that's another story). After turning his back on a lucrative contract with big fellas, Sony in 1999 and a critically acclaimed and successful debut album ('Merz', Epic) Merz relocated to Bristol and it wasn't long before this easy-going and surprisingly old electro-folkster issued the lavishly praised, Loveheart album in 2005 on Gronland. Introspective and personal but not glum they said. And they were right. And the same could very well be said of the new album, not least because it has some very chirpy tunes indeed on it ('Lucky Adam').

Sparse but not bleak, calm but never comatose, tracks like 'Moi et Mon Camion' (The Eviction Song) are uplifted by Merz's characteristic resilience and his quiet determination in 'mapping out the sun and the shade' with joyful resignation. Packing up, moving; it's relocation, relocation, relocation and the environment he has chosen to pitch his scruffy tent on is characterised by a peculiarly English setting: barking dogs, brass bands, mills, phone masts, television aerials, noisy neighbours, arguments about parking, state of art fishermen and concertinas. True to his word Conrad goes off the beaten track in search of a story and nowhere is it more beautifully illustrated than on the painfully tender, 'Malcolm' – which describes a town, perhaps a village charged by electricity and cable and which reunites the lonely man with the world that recedes progressively from his fingertips: a tale about the remarkable interconnectedness of everything with a poignant glockenspiel backing and some old drunk on backing vocals.
And being that it's 'good to talk', we thought we'd chat to the man himself.
---
How did you get started?
I had a long gestation period. I was lucky enough to grow up in a very musical family, at one point we had a family band.
What were the first songs you started to write? Any major changes in terms of direction?
The first real song I wrote was an awful ballad in the mode of a Rush or Led Zep ballad, it had the line "my heart of stone flown off like a dove", which has a similar poetic resonance to "should I just keep chasing pavements" or "it's not hard to fall when you float like a cannonball".
What do you remember about your first gig?
It was in the local village institute, we called it the "insti". We turned all our amps up to full volume simply because we thought that's what you were supposed to do at a gig, regardless of the distortion and racket they made. The funniest is, amongst a few of our dodgy original songs we did a cover of Led Zeppelin's "Rain Song" which is about the most technically complicated track in the entire rock songbook.

How did you get signed?
I got a publishing deal first, with EMI. That was off the back of some demos I did in their studio, a session which an early manager procured. Then, with the help of my A&R at EMI and a new management company, I put out a 7inch single of "Many Weathers Apart" and did a gig at The Water Rats, London, this caused sufficient buzz for my next Water Rats gig (a month later) to be packed to the rafters with A&R bods. Someone said if you'd dropped a bomb on the Water Rats that half the UK music industry would have been wiped out.
How did you blow your advance?
I made it last man. And good job too because it enabled me to make my second record independently of any record company. I own the rights to my 2nd album, Loveheart, and have licensed it to Gronland Records. My 1st record is Sony's for life, I'll probably never see any sales royalties for it.
The first famous person you met and the circumstances that led to it?
I was a massive Led Zep fan when I was 14 and my Dad was involved in The Huddersfield Contemporary Music Festival, a composer friend of his had put together a vast multi-media performance event. One of the contributers was John-Paul Jones (bass player of Led Zep), he had written an avant garde piece for "solo Trombone and Electronics", they needed someone tall to be a pallbearer with Tony Robinson (he was then playing Baldrick on BlackAdder), he is short and they wanted the coffin to be comically slanted. I was a tall 14 year old so I was dressed in full pallbearer outfit and had to carry this coffin on stage while mad avant-garde music played. I met John Paul Jones as a result. Well worth the embarrassment.
Daftest story you've ever been tempted to invent about yourself for the press?
Some might say the above story but that's actually true. My management had this ill-advised idea of changing my age, making me younger (I wasn't even that old), when I first started getting press. I told an NME interviewer and he rubbed his hands with glee. His story revelled in revealing my true age.
Ever indulged in any unruly rock n' roll behaviour?
We borrowed a diplomat friends' car in Belgium and drove it to a gig in France packed with our guitars and gear. The French border police looked confused as this Mini Cooper with a diplomatic number plate drove past them full of hairy musos and guitars sticking out the window. Special privileges for once.
Where's the strangest place you've been asked to play?
I played in a Ugandan disabled orphanage lit only by candlelight. There were about 200 amputees and disabled kids dancing to our music in the dark, flickering light. It was very strange, like a weird dream.
Who will you be taking along on the upcoming tour?
A drummer called Frank Benbini who plays with Fun Lovin Criminals. Naim Cortazzi, who is my soundman and also a Happy Mondays technician, last week he had to step in and play guitar for The Monday's in front of 15000 people when their guitarist went AWOL.
What's the closest you've been to rewriting a famous song?
One of my songs is a homage to Bob Dylan doing a homage to Martin Carthy doing a homage to the English folk song "Scarborough Fair".
Best band you've ever toured with?
We had fun touring with The Earlies, there was 11 of them, all kinds of characters. Some Texan, some Mancunian some Lancashirian. I toured with The The but had pretty much zero contact with Matt Johnson. Same with Flaming Lips. Not so with Suede who were very friendly, contrary to their image. I played a show with Peaches and really enjoyed her company.
Why was Bruno Ellingham chosen as producer?
Well Bruno was assistant engineer on my first album. I've always liked his attitude and evident skills. He lives locally to me so we slowly began work together on my 2nd album, Loveheart. During the making of that album we found a real equilibrium in the working relationship so we decided to carry that on to this 3rd album.
How does a song like 'Presume Too Much' come together?
I wrote that on an electric guitar, which makes it conventional by my standards. But it is a song made up of two separate lyrics. I wrote the chorus on a bus in Yorkshire on a rare occasion when the sun broke through the clouds. The verses are obviously about a relationship and possibly from a woman's perspective.
If it were all to collapse tomorrow would you go back to your old job? What was your old job?
I never have done anything else, feast or famine. I was a farmer for 3 months, but getting kicked and shat on by massive bulls was a struggle. I washed cars for a week but got the sack. I sold toys in Debenhams, Oxford St for 2 weeks but got the sack for encouraging kids to fire rockets at customers.
---
Merz - 'Moi et Mon Camion'' album out 17.03.08 on Gronland.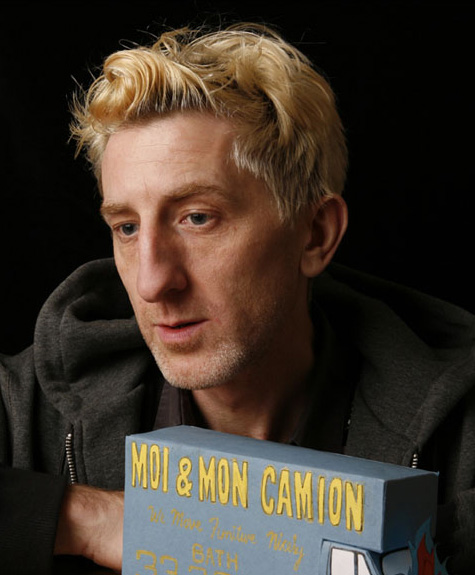 relevant sites:
www.merz.co.uk
www.myspace.com/merzuk
www.gronland.co.uk


Bristol shows and accommodation:
www.ents24.com/web/whatson/music/Bristol.html
www.room4u.org.uk/hotels/bristol/index.asp





Nosey Bastard for Crud Magazine 2008©