A 6 track EP of original songs by Alex Turner from the new indie Brit-Flick 'Submarine' will be released by Domino on Monday the 14th of March 2011.
'Submarine', the debut film from IT Crowd and Mighty Boosh actor, Richard Ayoade, based on the novel by Joe Dunthorne will be shown nationwide in cinemas from the 18th of March.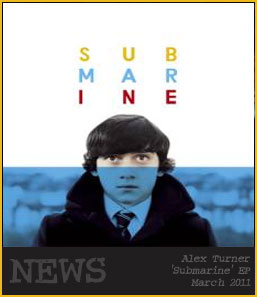 The film – a coming of age drama - is set in Wales and follows the 'hilarious' misfortunes of 15-year-old Olver Tate by by Tracey Beaker actor and Alex Turner lookalike, Craig Roberts.
The producers, Warp Films were also responsible for bittersweet successes, This Is England and Four Lions.
The EP will be available on CD and via digital download.
Tracklisting is as follows:
1 Stuck On The Puzzle (Intro)
2 Hiding Tonight
3 Glass In The Park
4 It's Hard To Get Around The Wind
5 Stuck On The Puzzle
6 Piledriver Waltz
more info:
http://www.youtube.com/watch?v=6CAntLzsQ74
---