Ten years since they replaced Al Queda as the most clear and present threat to New York, The Strokes announce the release date for their fourth album, 'Angles', on March 22nd via RCA Records in the US, and March 21st via Rough Trade Records in the UK.
A new single titled ĎUnder Cover of Darknessí is slated for release in February.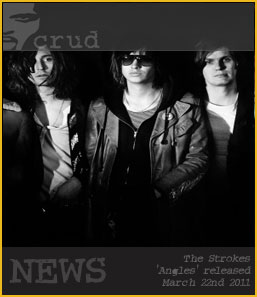 With several members of the band having enjoyed no small amount of critical success with their own solo ventures industry insiders predict that ĎAnglesí will see the emergence of a band sounding like five different people, the share of writing input being more evenly distributed than on previous releases. This may of course be something of a relief for all those fans who have sensed the quality of the bandís output slipping for nine of those ten-years in office.
Whilst only 'Life Is Simple' has survived from sessions the band recorded with producer Joe Chiccarelli (U2, Beck) early last year, much of the material is expected to have been self-produced with Grammy Award Winning engineer Gus Oberg presiding at the desk.
The album will be the New York bandís first since 2006's 'First Impressions Of Earth'.
More details on ĎAnglesí will be released in the coming weeks, as will details for a Spring US tour.
Have those skinny ties been getting a little fatter of late? Has Casablancas finanlly outgrown his regrettable fascination with hip-hop and rediscovered his stack of Velvet Underground and Blondie vinyl? Only time will for The Strokes.
'Angles' track listing:
01. Machu Picchu
02. Under Cover of Darkness
03. Two Kinds of Happiness
04. You're So Right
05. Taken For A Fool
06. Games
07. Call Me Back
08. Gratisfaction
09. Metabolism
10. Life Is Simple In The Moonlight
more info:
www.thestrokes.com
---