Having been nominated for the Mercury Music Prize in 2007 with their debut 'Hats Off To The Buskers' and then followed that up with their critically-acclaimed sophomore album 'Which Bitch?' in 2009, The View will release their third album 'Bread And Circuses' on Monday 14th March.
Produced by Youth (The Verve's 'Urban Hymns') the album features the free download 'Sunday,' and coincides with the band's sold out UK tour.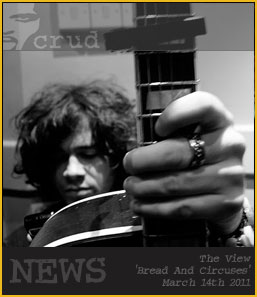 'Bread And Circuses' saw the irreverent young, tousle-haired scallies decamp to London's Britannia Studios for the first time with a whole batch of songs ready to go. "Youth had us recording strictly 11am-11pm," says vocalist/songwriter/guitarist Kyle Falconer. "With Owen [Morris] we created the album in the studio. This time we went in with 30 tracks to work with. We've also got an addition to our band in Darren Rennie who's a childhood friend of ours. He plays keyboards and sings which has enabled us to work with 5 part harmonies on the record. We've dreamt of being able to do that."
So why the name?
"When we were writing the album we had the idea of being like clowns in a circus, maybe in the same way Kasabian were 'lunatics in the asylum' for their last album. This came about when we realised that everyone we meet sees us as entertainers first and normal guys second. It seems obvious now but it's not something you grow up thinking about necessarily."
Tracklisting for 'Bread And Circuses' as follows:
Grace
Underneath The Lights
Tragic Magic
Girl
Life
Friend
Beautiful
Blondie
Sunday
Walls
Happy
The Best Lasts Forever
The band are set to play a number of intimate UK shows to showcase the new material and will play the following:
Monday 4th April – Dundee Caird Hall
Tuesday 5th April – Aberdeen Music Hall
Wednesday 6th April – Glasgow Barrowlands
Saturday 9th April –Sheffield Leadmill
Sunday 10th April –Leeds Cockpit
Monday 11th April –Manchester Academy 2
Friday 15th April – Nottingham Rescue Rooms
Saturday 16th April – Birmingham O2 Academy
Sunday 17th April –Norwich Waterfront
Monday 18th April – Portsmouth Wedgewood Rooms
Wednesday 20th April - London Shepherd's Bush Empire
Thursday 21st April – Bristol The Fleece
Friday 22nd April – Coventry Kasbar
more info:
www.theviewareonfire.com
---