Leaders of the Seven Nation Army have announced that they will be laying down their arms and surrendering to the inevitable: The White Stripes have split.
It was nice but now itís gone. And if our anxiety about The Strokesí new record is anything to go by, perhaps itís best this way. A noble death rather than a passing away thwarted at irregular intervals by intravenous festival appearances and the life-support offered by only the loyalist of fans. There are only so many adrenaline shots a heart can take before it starts looking like a pincushion, afterall.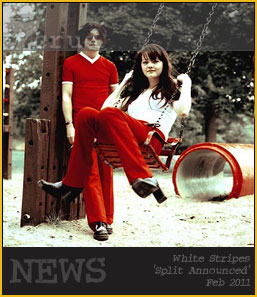 So without further ado Ė itís over. The Whites have shuffled off its mortal coil, run down the curtain and joined the bleedin' choir invisible.
The group who formed 13 years ago in Detroit and handcrafted six studio albums, have announced they have split up, saying they will "make no further new recordings or perform live". They will however continue to put out unreleased live and studio recordings as part of their Vault Subscription record club.
Jack and Meg White thanked fans for their support in a statement on their website.
They added that they were calling it a day for a "myriad of reasons, but mostly to preserve what is beautiful and special about the band."
Giving their reasons for the parting Jack and Meg said it was not "due to artistic differences or lack of wanting to continue, nor any health issues".
The statement said they hoped the news would not be met with "sorrow" from fans but seen as a "positive move".
more info:
http://www.whitestripes.com/
---