Over the course of three albums Sheffield based indie band Arctic Monkeys have seamlessly made the jump from enthusiastic adolescents to one of the best acts in a long time. This hysteria seems unjust for a band in their early 20's, and must earn a fair bit of jealousy from other musicians that have taken a multitude of albums and tours to gain such control. Turner and Co must be on the right track for place in the music hall of fame if they can continue to perform with the confidence and finesse seen tonight by a sold out Wembley Arena.
Wembley's early birds were treated to a support slot by Eagles of Death Metal, a band who although are no strangers to the ways of touring are still relatively unknown in the UK, but I'm sure performances like this opening for Arctic Monkeys won't damage their reputation.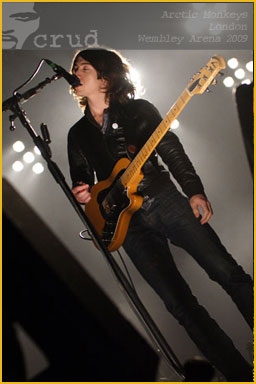 Performing from a stripped back and basic stage set-up, which has become somewhat of a trademark for this band, Arctic Monkeys strolled into a melodic version of third album track 'Dance Little Liar' before the curtains had even been opened. A lengthy set drew songs from all three albums, and encompassed all the usual hits with constant back-up singing from this packed out crowd. Energetic renditions of 'Brianstorm' and 'I Bet You Look Good on the Dancefloor' wouldn't be the same without 10,000 eager music fans mimicking Alex Turner's every lyric, but new album 'Humbug' produced no shortage of aping too, the crowd reacting with much the same enthusiasm to hot off the fire classics like 'Cornerstone' and the snake-charming, spirit-raising 'Pretty Visitors'.
Wembley arena was then turned into a winter wonderland for a drawn out version of 'Do Me a Favour' as the audience was showered in a blanket of gold confetti and Turner prowled the stage. The customary encore saw them perform a medley of fan favourite tracks 'Fluorescent Adolescent' and 'Mardy Bum' which turned this spacious London arena into carnival of excitement. All this energy and stimulation was then brought to a relaxed close with a leisurely version of '505' ending the gig.
If tonight's Wembley gig proved only one thing, it was that this mature and far more serious version of the Arctic Monkeys will be around for many years to come ...

more info:
http://www.arcticmonkeys.com

Report ~ Tom Collins for Crud Magazine 2009©