Gene Hunt hasn't been in his grave two weeks and already we're trying to contact another dead eighties spirit. A closer look at the word 'séance' should yield a few clues: a meeting of people who are gathered to receive messages from spirits or to listen to a spirit medium communicate with or relay messages from other spirits in the hope of convincing sceptics and non-believers. Not that we're likely to have many sceptics and non-believers left, one would suspect. Just a casual glance at the charts will confirm what we have long suspected: the eighties are back and not even twenty-seven years and half a dozen format changes of 'Now That's What I Call Music Retro' are likely to stale the era's infinite variety either. Not that this new Bustin' Out series offers any real clues to the success of '80s-lite' revivalists like La Roux and Empire of the Sun – as chipper as they are – because what we have here is the dark side of the sun: brutal, rather crude, shamelessly existential and fizzing with more analogue and more static than a Sony Walkman radio.
Conceived of by veteran DJ Mike Maguire, the 'Bustin' Out' series charts the groundbreaking developments in electronic-based music through the 80s. There's no Pierrot clowns, sadly, nor are there lingering shots of Keely Hawes' painstakingly recreated 1980s bottom, but what it lacks in gimmicks it more than makes up for in class, kicking off with Germany (where else?) with proto-industrial Electronic Body Music and moving through a deliriously meccanic selection of tunes that includes Vancouver's Moev (and the monstrously pretty 'Cracked Mirror'), the haunted-city style of Tubeway Army 'Repilcas', a 1981 demo from 4AD's bonkers gothic anarchists, Dead Can Dance and the frankly 'otherwordly' 'Body to Body' from Front 242 who did for Belgian avante-garde what Throbbing Gristle and Caberet Voltaire did for Yorkshire.
Why our continuing fascination with the 1980s? It's hard to tell. Perhaps it was one of the last periods in recent memory when music arose out of a need to break moulds rather than recast them, when youthful inspiration came from a need to escape the centrifugal force of the music industry rather than add to its already considerable mass. Or perhaps it was just how ruddy crude it all sounded: the masking tape, the wires, the rudimentary, synthetic beats. For all it's artifice it still sounded more real and more human than anything we have today.
'Anger is an energy'. Remember that …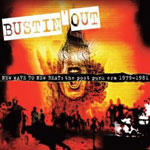 Bustin' Out New Wave To New Beat: The Post Punk Era 1979-1981 – Various Artists OUT NOW on Future Noise/Year Zero.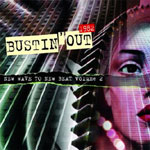 Bustin' Out New Wave To New Beat: Vol.2 – 1982 – Various Artists Out June 7th 2010 on Future Noise/Year Zero.

More info:
http://www.futurenoisemusic.com/

Alan Sargeant for Crud Magazine 2009©