If you haven't been asleep for the past four weeks or found yourself stranded on some godforsaken Greek Island awaiting the boys of Ark Royal to whisk you back to old Blighty, then you may not have already heard the band's boisterous first single, 'Drunk Girls' leaping around your radio speakers like some cryogenically-defrosted Ziggy Stardust ingesting his first supply of mephedrone. And if you liked that, you'll be tickled pink to learn that the band's new album is also due out in May.
As surreal as Ape School, as bright as Empire of the Sun and s eager to boogie as Marc Bolan, the new 9-track album LCD Soundsystem gets it's release through DFA/Parlophone on May 17th and what a far-reaching collection of boppy old acid-dance tunes it is too. It has the gloriously robotic ('You Wanted A Hit'), the weirdly rubbery ('One Touch') and more slinky, clean fingersnaps than West Side Story ('Somebody's Calling Me').
The album will be preceded by a series of releases. 'This Is Happening' EP (released on iTunes on 11th April) featuring 'Drunk Girls' &' All I Want' taken from the album, allowing fans to get an early taster & 'Oh You (Christmas Blues)' , which is taken from the Greenberg OST which James Murphy recently scored.
A special one sided 12" only version of 'Pow Pow' was released on 17th April to coincide with Record Store Day.
LCD have recently been confirmed to headline both Wireless Festival in London on July 3rd & The Radio 1/NME Stage at Reading/Leeds festival in August and Electric Picnic in September. Their tour of the UK in April is almost completely sold out. Look out for more festival announcements over the coming weeks.
Tracklist:
Dance Yrself Clean
Drunk Girls
One Touch
All I Want
I Can Change
You Wanted A Hit
Pow Pow
Somebody's Calling Me
Home
The songs were recorded at The Manshun in Los Angeles and the DFA studios in New York and mixed at DFA from April 2009 through February 2010. "This Is Happening" was written and produced by James Murphy.
LCD SOUNDSYSTEM On Tour 2010

April 23 London Brixton Academy * SOLD OUT
April 24 London Brixton Academy *SOLD OUT
April 26 Birmingham Academy
April 27 Leeds Academy * SOLD OUT
April 28 Glasgow Barrowlands
April 29 Glasgow Barrowlands * SOLD OUT
May 1 Manchester Academy * SOLD OUT
May 2 Bristol Academy * SOLD OUT
July 3 London Wireless Festival (Headline)
August 27 Reading Festival UK (Headline Radio 1/NME Stage)
August 29 Leeds Festival UK (Headline Radio 1/NME Stage)
Sept 12 Isle of Wight Bestival

More info:
http://www.lcdsoundsystem.com/clip4


New album 'THIS IS HAPPENING' - OUT MAY 17TH!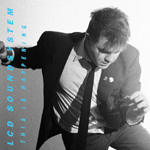 Alan Sargeant for Crud Magazine 2009©