There's always been something about Canadian synth-indie merchants Metric that just didn't sit right with us. Too knowingly stylish? Too little in the way of genuine pop tricks to back up the bravado? Too abrupt and forthright a leader in Emily Haines, maintaining too icy a veneer? She played a solid spindle in Broken Social Scene's collective backbone from time to time, but even there never seemed the most approachable. And also, the 'Monster Hospital' single that broke them on their last album was a truly annoying rehash of 'I Fought The Law' (as made famous by The Clash) to which our legs said dance but our head said "NO!". And we do so dislike internal conflict. But if current album 'Fantasies' doesn't go some way to answering those criticisms (and, gosh, it actually really really does – without drawing so much as a breath, it has to be one of the most consistent records of the year) then tonight's frothing-at-the-cherry-red-lips performance certainly does.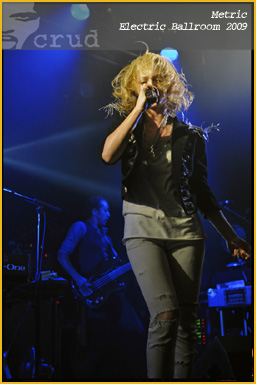 "Do we have permission to rock your fucking faces off!?!" comes the request that sets the tone for the evening, and which comes at the end of a lengthy preamble about the relative merits of The Beatles and The Stones and how she'll pursue the romantic dream of making Metric the perfect amalgam of the two, leading into the fuzzy electro-pop waterfall of 'Gimme Sympathy' containing similarly alluding lyrics. Cocky? Yes, a bit, but when they are on such dynamite form, pulsating from one firm-legged iconic pose to the next under burning lights, they can afford to be. The songs are recreated faithfully, but the flag flies with so much more frenzy tonight thanks principally to Haines' efforts; she paces the lip of the stage, fist in air, head banging, legs astride jabbing her keyboards, clapping, pogoing, laughing, pouting. She never seems short of a way to connect with the songs she's performing, which feeds the band, which feeds the audience, which clearly feeds back to Emily. Etcetera. 'Stadium Love' seems the only appropriate way to end the set, waves of ego, actual achievement and overdriven synth sparkle spilling out voluminously onto Camden High Street.
Verdict: Imperial or metric? Either way, this was a tonne of the good stuff.
Best in show: Album highlight, the jerky anthem 'Sick Muse'
Download: 'Fantasies' in its entirety, or 'Help, I'm Alive' as a failsafe intro.
Playlist companions: Broken Social Scene, Stars, Blondie, Yeah Yeah Yeahs.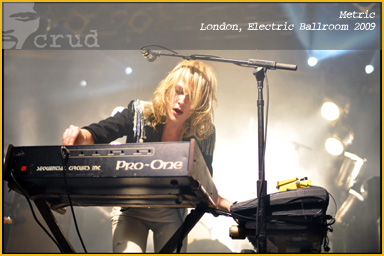 Electric Ballroom shots
more info:
http://www.myspace.com/metric

Photos & Report ~ James Berry for Crud Magazine 2009©