Flying through Europe on a festival and one-off show whirlwind, as much as a band defined by the languishing, exquisitely ponderous nature of their observations and internal emotional conflicts can fly, The National float to earth tonight for the grandest UK date of their career thus far. What is immediately surprising is how at one they seem on the Royal Festival Hall stage with the extravagantly angular architecture of the concert hall towering tall above them, yet they somehow remain immune from its scale, protected by the mass of darkness that envelops them. "This is how we're most comfortable," quips Matt Beringer dryly between songs with the lights down, "just let us relax".
Last time we saw them, rounding off the 'Boxer' tour at last year's festivals, they seemed built up but worn down; the natural urge to fill the boots that their new-found success had thrust them into somewhat smothered the fragility of the songs. Don't get us wrong, it didn't break them and it was an undoubtedly muscular showing, but perhaps they should have trusted their original instincts more. Matt's unusual, coy vocals too had hurriedly evolved into something more blunt and unwieldy, whether through nerves or a misguided desire to embolden what had previously ambled along artfully guarded. But if that band, back then, had mislaid the finer details of their base identity then the version we see before us tonight has rediscovered itself and even dug that bit deeper.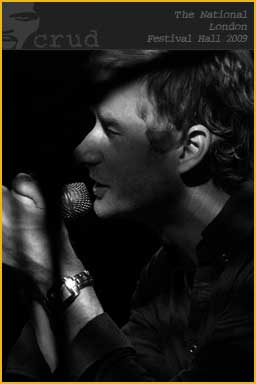 They're a bigger band, in figurative terms of scale and confidence (aside from the popularity that saw them fill this massive space with attentive, passionate souls), but that now feels balanced satisfyingly with the minutiae from which they're hewn. There are kinks in their bold overcoat, certainly; the moments when Bryan Devendorf's muscular rhythmical spasms don't quite lock in sync with the Dessner brothers' twinkling melodic precision and Matt's vocal briefly loses shape. But those small moments of vulnerability in their performance are mere flickers and only heighten the overall impact. They've also further mastered the art of crescendo to great effect, seen in frenzied outros for 'Brainy' and 'Squalor Victoria'. And the rich composition of the three new songs previewed tonight, one ending with Matt down in the stalls, microphone extended above his head, crowing "I'll explain everything to the geeks!", suggests their vintage could yet be ahead of them.
Verdict: The grand National. National treasures. The National's anthems. Etc.
Best In Show: A vitriolic 'Mr November' and Matt's extended rampage through the audience, screeching the chorus's coda in people's faces at point blank range (unheard of behaviour for the timid frontman of old) and being embraced in return.
Download: 'Slow Show' and 'Green Gloves', both deeply tender and warmly unfurled.
Playlist companions: Wilco, REM, Interpol, Pixies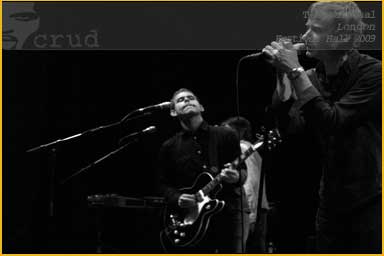 London Royal Festival Hall shots
more info:
http://www.myspace.com/thenational

Photos & Report ~ James Berry for Crud Magazine 2009©