Guillemots, contrary to some popular opinion, are an enthralling ménage-a-quatre of creativity and contradiction, a rainbow splurge of eloquence and ambition, a simian swinging within the caged containments of sequined pop but negating those enforced borders by darting so lavishly and with such enthusiasm from available branch to available branch. Their audience, to put it plainly (and possibly loyal to popular opinion), are nothing of the sort. Which makes for an intriguing stand off. Guillemots have named their new album 'Red', which is fair enough – it's a bold, striking, enraptured colour to represent a determined record of similar qualities. The audience, were they to be represented by a swatch from the colour spectrum, must surely, regrettably languish under the auspices of the beige palette.

For all of Guillemots' flamboyance, the many musical caps they doff, their cross-cultural make-up and their beguiling eccentricity smatterings, they did make their name and more importantly shift copies of their debut album off the back of dainty, mild-mannered if slightly woozy piano-built balladry like 'Made Up Love Song #43' and 'Trains To Brazil'. They were marketed as a kooky Keane, if you will, which has translated to the situation we find ourselves in tonight – a few thousand faces barely stirred by the audacious inverted-funk of new track 'Kriss Kross' and even a standard performance of aforementioned breakthrough single 'Made Up Love Song #43'. They must have pulled in fans off the back of their occasional mind-morphing freeform jazz wig-outs too, but with a set that treads a largely safe path (relatively speaking) they put themselves in a position where almost nobody's expectation can be matched.
Which is an awkward situation to drop yourself into, especially when there pretty much is a little something for everyone and that they deliver a lubricated and often flawless performance. The first half of the set passes almost without incident, a good but not spectacular flurry of songs is received politely but indifferently, particularly where unrecognised new songs are concerned (including 'Words', an impassioned collaboration with support act Ida Maria that deserved more). But massive single 'Get Over It' is tonight, as with their recent career, a turning point. It torrents in, splintering with a ratcheted fury that the slick recorded version could not convey, impossible to ignore. Fyfe tears at his distorted guitar and Aristazabal substitutes her double bass for a second set of drums to really give the peaky glam racket teeth. It is nearly staggering, if a little too quiet.
Buoyed on by the momentum, this is followed and indeed trumped tenfold by ridiculous live staple '21st May' (not, as far as we're aware available in recorded form), which encapsulates everything that is outlandish and spectacular about Guillemots. It is an oomphing oompah circus freakshow marching band jazz meltdown burning in the recesses of a dying genius's lunatic fidgeting brain. The stage erupts in colour, the BPM rises significantly as does the temperature. There is a mixture of confusion and elation, wild on both counts. As awakenings go it's got to be akin to waking bolt upright at the North Pole wired up to an industrial battery. Things calm down a touch next, but then they probably had to. Fyfe performs 'We're Here' alone in a spotlight, amid a dead hush, running around the standard melody like a carefree spirit with the odd resulting bum note even somehow adding to the authenticity.
They perhaps find, amidst this run of extremes, the perfect meeting point for the various Guillemots factions. The night proceeds to end on a higher plain than it started, but next to that central trio the details are unimportant. Peaked too early? Perhaps, but the fact that they peaked at all under these circumstances is worth celebrating.
Relevant sites:
www.guillemots.com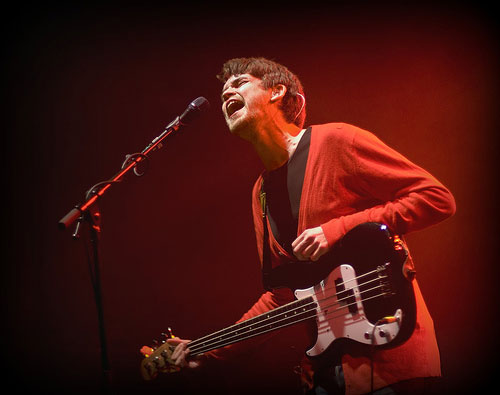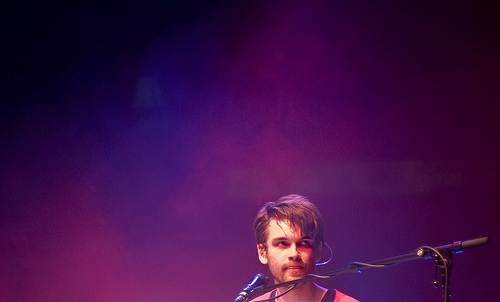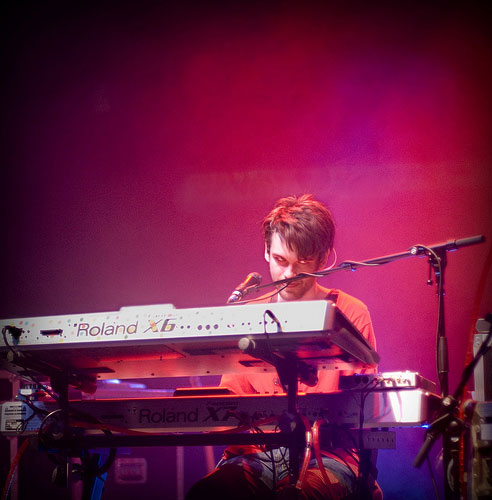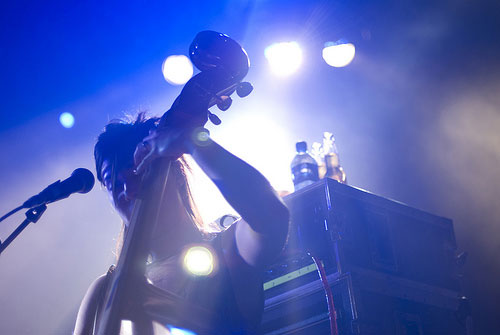 Photos by Jane Hoskyn © 2008


Report by James Berry for Crud Magazine 2008©