The Offspring : "Huck It" DVD release

"Huck It" appears to be THE OFFSPRING'S own skewered version of a DVD "film". While there is no narrative structure to speak of, the DVD appears to be a demonstration of what it means to live 'The Offspring Lifestyle'.
So so quality concert footage is cross cut together with band members (in particular, an ancient looking Noodles, the bands guitarist) goofing about with heavy equipment and high-risk sports namely skateboarding, parachuting and BMX stunts.

This footage is, on first viewing, pretty addictive eye candy. The mix of actual live performance and these high energy activities (while Offspring songs are playing in the background), hangs together very well while obviously appealing to the bands core audience of teenage boys. This is due to the heavily stylised way the footage is shot and edited together.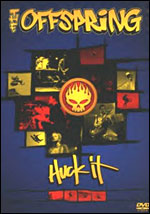 The visual tricks that the DVD incorporates may be industry cliches, but in fact, mix of fish eye lens, negative enhanced footage, scratchy animated text and slow-mo shots do give the DVD a cut and paste 'fanzine' quality which compliments the bands image as neo corporate 'punks'.

While this may not exactly be the "Behind The Scenes" footage you were expecting, the likelihood is that it is far more stimulating that footage of the band practising. At a guess, the workmanlike Offspring have a pretty low quota of backstage diva-like hissy fits.

Ultimately, It's a very satisfying package, the DVD feels like an extension of their music rather than a non essential visual accompaniment to them. 4 stars out of five yeah?
Reviewed by Priya Elangasinghe